---
Editing Your Website
---
While visiting the Avon Forums I noticed a number of people asking for help with their Avon website. Some of you are new to HTML and just need a little extra help to get things going. It is my hope that you will find that help within the pages of my website.

My site is chock full of nifty web design tricks to help you create your AVON website. Check it out!
---
THE VIDEO
Click the following link to watch a video tutorial on EDITING YOUR AVON WEBSITE.
CLICK HERE - EDITING YOUR AVON WEBSITE
-please allow video a moment to load-
---
STEP by STEP TUTORIAL
The first thing you will need to do in order to edit your website is to click the WEBSITE EDITOR TAB.
---
Click on EDIT - as shown in the photo below.
---
A pop-out window with a drop-down menu will appear. You are given several options. Choose WELCOME MESSAGE or NEWS & ANNOUNCEMENTS and click EDIT CONTENTS.
*For this tutorial I am choosing my WELCOME MESSAGE.
---
Now we are in the editing section of our website. Check out the photo below. As you can see Avon has already inserted a Welcome Message. In order to personalize this area with your own content you will need to check the EDIT IN HTML CODE box.
* Check out the rest of my website for a large variety of HTML 'copy & paste' codes you can use in this section.
---
You will have to clear the Welcome Message that Avon has placed in this area. Just click the CLEAR button. All of the text inside the box should disappear.
---
Now is the time to put all of your fantastic STUFF inside this little box. Have fun ... let your imagination go wild!
Don't be alarmed when you see your text inside the little editing box. It will look like a bunch of gobbly goop. That's okay - it's supposed to look like that. That is the HTML code.
After you have entered all of your 'stuff' just click the SAVE button, as shown in the photo below.
INTERNET EXPLORER
* PLEASE NOTE - In FIREFOX you will find your SAVE button right under your CLEAR button. If you look closely the edge of the SAVE button is right at the edge of the CLEAR button - almost like a drop shadow. If you hover your mouse over it you will see it says SAVE. Just click that little shadow edge and you can SAVE your page. See PHOTO EXAMPLE Below -
FIREFOX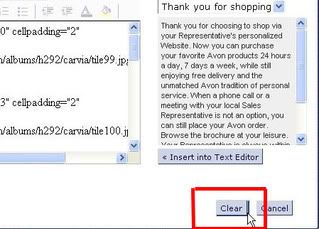 ---
After clicking the SAVE button you will be brought back to this page - see photo below. You should see your content in the little editing box.
Now it's time to take a look at your site. By clicking PREVIEW YOUR SITE button can see what your site will look like to everyone else. This is a great way to make any changes before you publish your Avon site.
---
It's time to publish your Avon website. Just click the SAVE & PUBLISH button.
---
Editing Your Upcoming Events
---
To add an event to your site -

1. Go to Web Office and Click on "Edit Website." Then Click on the "edit" button in the Upcoming Events section and click on "Edit Contents." A new window will open.

2. Click on Events and To Do. A new event will open. Give the event the title noted on the individual article. Then copy and paste the text from that event into the Description Block.

3. Make the Start and End Dates the same date. Check "all day event."

4. Click on the week and day of the month you want to repeat the event and check "Repeat Forever." Then your event will repeat every month until you cancel it.

5. Click "Save Event."

6. When you are finished click on Back to Events and it will show you all of the events you have scheduled and the days of the month where an event is scheduled. Space out your events so that you have one or two every week.


* A special thanks to Kathy Brown for sharing her 'Upcoming Events' instructions and allowing me to share them with all of you.
---
You did it! Your Avon website is now online for all the world to see!
And don't forget - you can edit the NEWS & ANNOUNCEMENTS section of your Avon website exactly the same way as your Welcome Message. Just remember ... you have a limited amount of space in this section so plan your design accordingly.


Top of Page
---
visitors are currently browsing this site